Of railways and long-distance relationships
Why Ukraine hopes a new train tunnel will bring Europe closer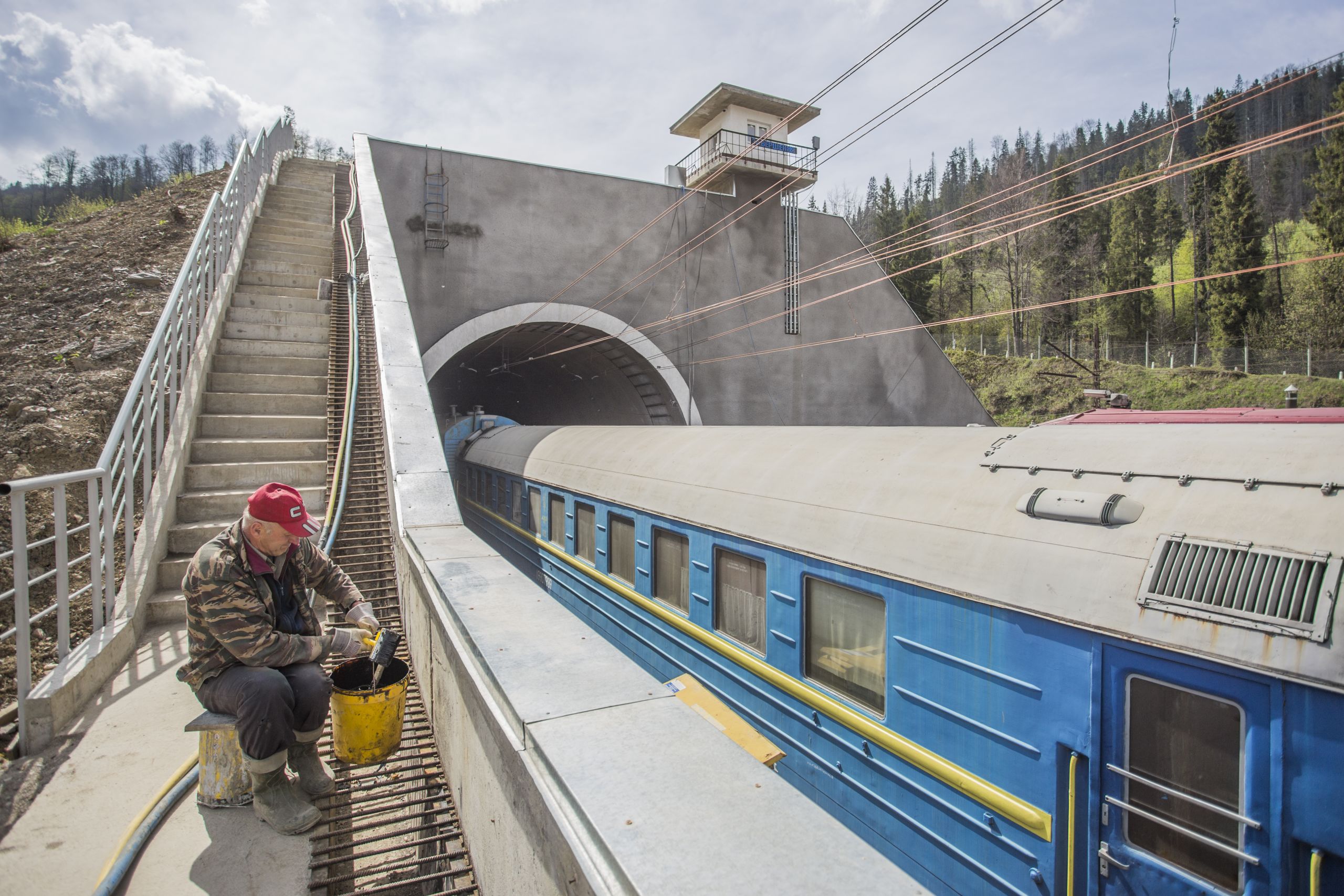 By Vanora Bennett and the EBRD's audiovisual team.
When a train tunnel was first built through the Beskyd pass in 1886, the Carpathian mountains where the line ran were in the heart of Europe. The railway tied together all the Austro-Hungarian empire's domains in the centre and east of the continent into one coherent economic and cultural whole – the opera-and-whipped-cream fiefdom of the capital, Vienna.
Several imperial collapses, world wars and redrawings of the continent's maps later, the 131-year-old Beskyd railway tunnel is in bad repair and the region around it lies right outside political Europe, in post-Soviet Ukraine.  The decrepit tunnel leaks, gets iced up in winter, and is only wide enough for a single train. Goods and passenger trains wait their turn to pass through.
Now, a new tunnel at Beskyd will help Ukraine at least double traffic west into Europe, and unblock the worst bottleneck in a new east-west transport corridor spanning the continent.
"What this project offers for the future is that we are moving towards Europe," said Vladimir Kharlan, chief construction engineer for Ukrainian Railways' western branch. The upgrade symbolises modern Ukraine's bigger hope that it can integrate itself better into the European Union's (EU) economy and in time also become part of the 21st-century European political family by joining the EU.
Ukraine needs the reorientation. Until 2014 its biggest trade partner was Russia, to its east. Then conflict with Moscow slashed Ukraine's exports to Russia, from 24.3 per cent in 2012 to 11.9 per cent in 2015, and cut its GDP by about 20 per cent. Ukraine is now seeing a modest recovery after two years of deep recession. Latest economic forecasts predict the Ukraininan economy to grow 3 per cent in 2018 and 2019.
Since 2015, the EU has been Ukraine's biggest trading partner, taking more than a third of its exports. Trade with the world's biggest market has started growing healthily. In the first 10 months of 2017 Ukraine's exports to the EU in US$ terms increased by 32.3 per cent year-on-year, and its total trade turnover with the EU increased by 24.8 per cent in the same period.
"Trade has now been displaced to the Middle East, the Far East and Europe to some extent," commented Sevki Acuner, Head of Ukraine at the EBRD, Ukraine's largest single investor. "It's hard to adjust but reality forces you to do so more quickly and dramatically."
The new tunnel will be working by May 2018. But is it enough? What else does Ukraine need to do to connect its economy, political culture and people more effectively with Europe?
"This tunnel, which has existed for a very long time, was made with the original idea of being part of Europe," said Acuner. "This work has helped to restore it to its strong original basis. But of course this is only a part of the picture. There are other forms of transportation, other forms of cultural and economic exchange."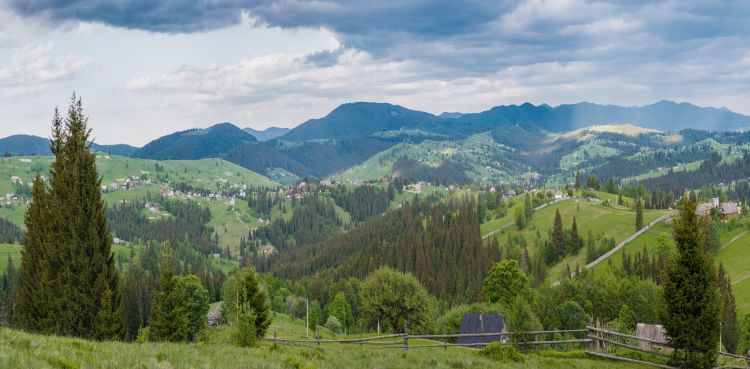 Hardware
Europe's great connectivity upgrade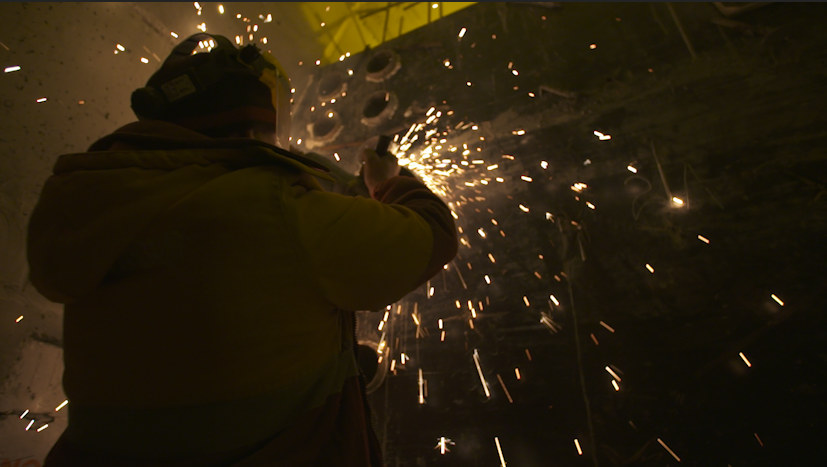 At its simplest, connectivity is about transport links – the "hardware" of sharing ways of getting goods and people from A to B. The Beskyd upgrade is part of a vast plan to improve Europe's infrastructure connections. 
In 1991, when the Soviet Union collapsed and Ukraine and its other former republics became independent, that renewal was badly needed. Economic connections for Warsaw Pact and Soviet republics had been to or through Moscow. Travel westward across the European political divide had never been prioritised and railways in the Russian empire had actually been built using a broader gauge than the European norm (1520 mm, not the European 1435 mm) to discourage invasion from the west.
Cometh the moment, cometh the plan. In the mid-1990s, the EU, the Organisation for Economic Cooperation and Development (OECD) and the former Soviet republics in eastern Europe set out to create a transport network for the future. It would reach far beyond the then-15-state European Union, along 10 Pan-European Transport Corridors – multi-state rail and road routes joining central and eastern European countries with one another, with the EU and, at the outer edges, with Russia and Turkey. 
Ukraine is on three corridors. The Beskyd tunnel is on Corridor V, from Venice through Italy, Slovenia and Hungary to Ukraine, passing through western Ukraine's capital, Lviv, to Kiev. The EBRD and European Investment Bank (EIB) have also co-financed road upgrades to the M-06 Highway, Ukraine's part of Corridor III to Brussels. As EBRD President Sir Suma Chakrabarti has said: "Our highway maintenance programme brought such welcome changes to some Ukrainian roads it recently earned star billing on TV under the title '200 kilometres of happiness'."
Completing these massive projects was never going to be easy. Infrastructure work of this complexity had rarely been realised in the countries attempting them in the 1990s and they had little experience of international procedures. Teething troubles caused delays. At Beskyd, says EBRD Head of Transport Sue Barrett, an EBRD financing deal with Ukrainian Railways (known by its Ukrainian initials as UZ) – for work including the $40 million the Beskyd tunnel project was originally supposed to cost – was signed back in 2004. But delays in much-needed reform as well as issues with tendering, rising costs and tunnelling forced multiple rethinks. Mark Magaletsky, EBRD Head of Infrastructure in Ukraine, explains that a contract with the Ukrainian firm Interbudmontazh, which brought in an Austrian sub-contractor, Porr, was signed in 2011. It was one of the largest contracts signed by a Ukrainian firm with the EBRD. But it was 2014 before the EIB brought an extra US$55 million needed to complete the tunnel. The European Union also provided a grant to support the construction and, together with Austria, provided technical assistance.
Still, the end result is all positive. The new tunnel, says Barrett, will make operating this route more efficient, by allowing both two-way traffic and high-speed trains – important since the line "carries something like 60 per cent of Ukrainian traffic towards the western border", which is more than 300 million tonnes of largely bulk traffic. Magaletsky – who with Sue Barrett has worked on the project since talks began in 2001 – talks too of the sense of achievement: "Despite all the issues and problems we faced, we've stayed on track and managed to get through all these troubles – technical, political, contractual, legal, you name it – to successful completion. It's a good feeling, both for infrastructure and for the country."
Other physical connections are also being improved. One is air travel. The EBRD's Sevki Acuner said: "Today there are more flights into Ukraine from more carriers, with Turkish Airlines flying to six or seven destinations as opposed to one or two before. There are three or four times more flights." And in March 2018, one of Europe's largest low-cost airlines, Ryanair, one of Europe's largest low-cost airlines, announced it would start flying to Kiev from 10 European routes, and to Lviv from five, from October.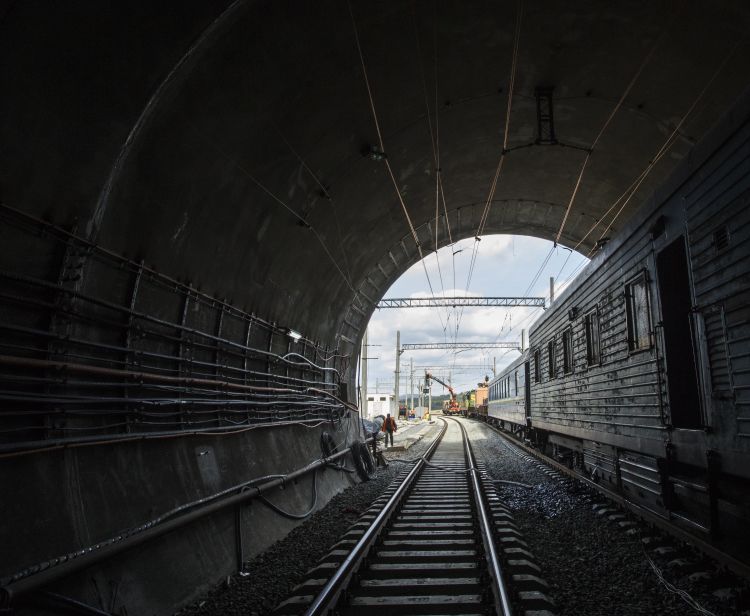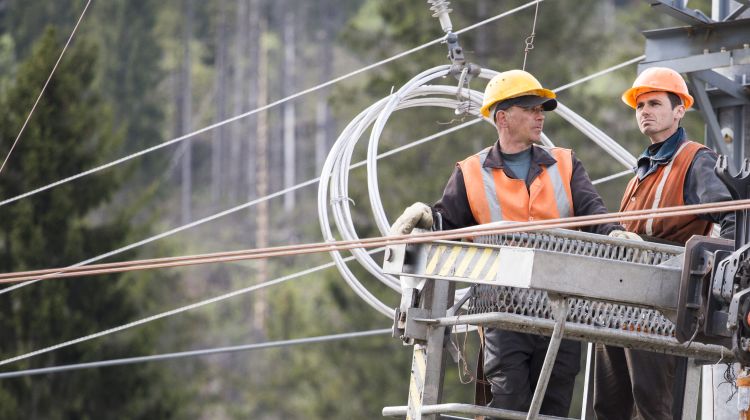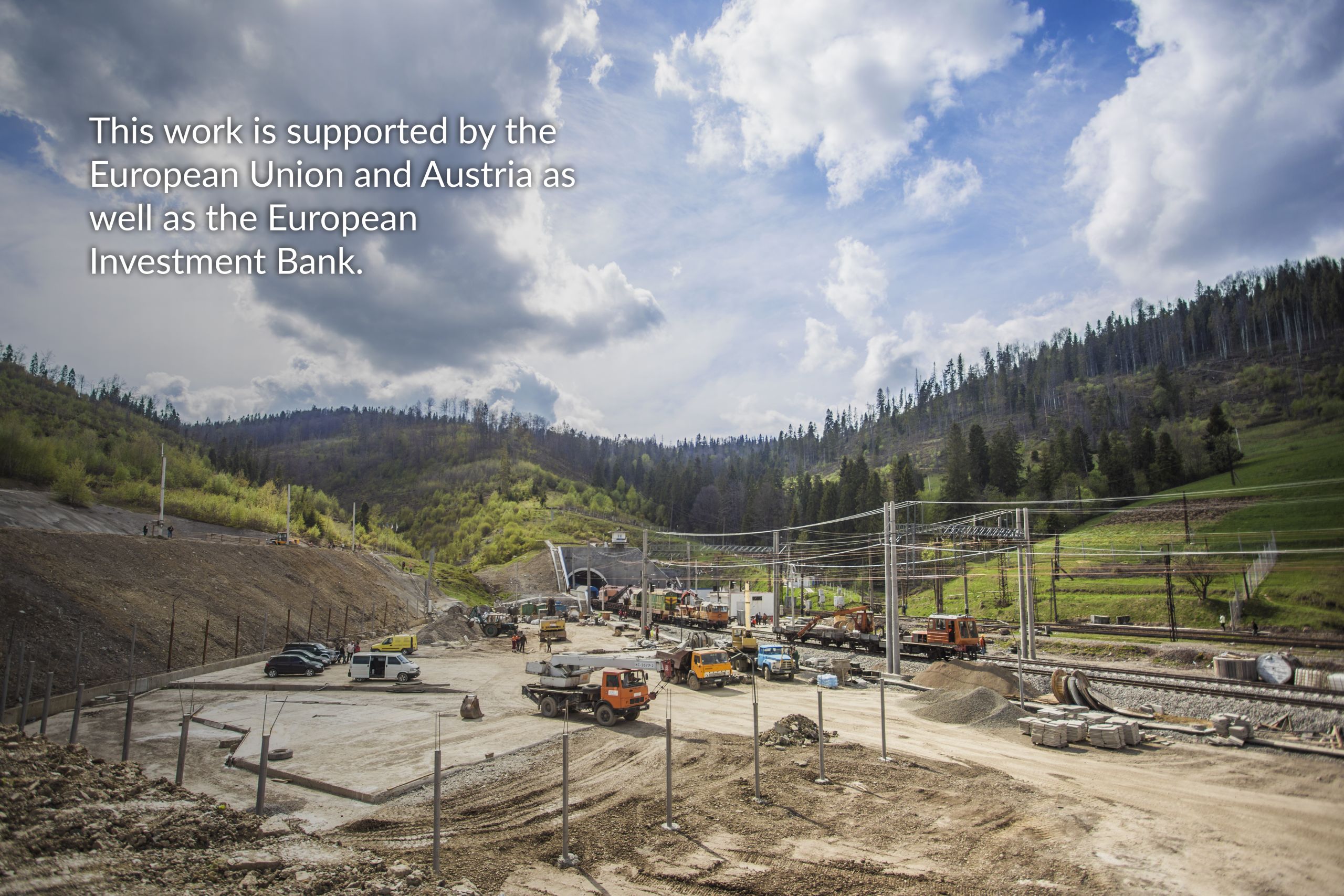 Software
Where might the new roads and railways lead?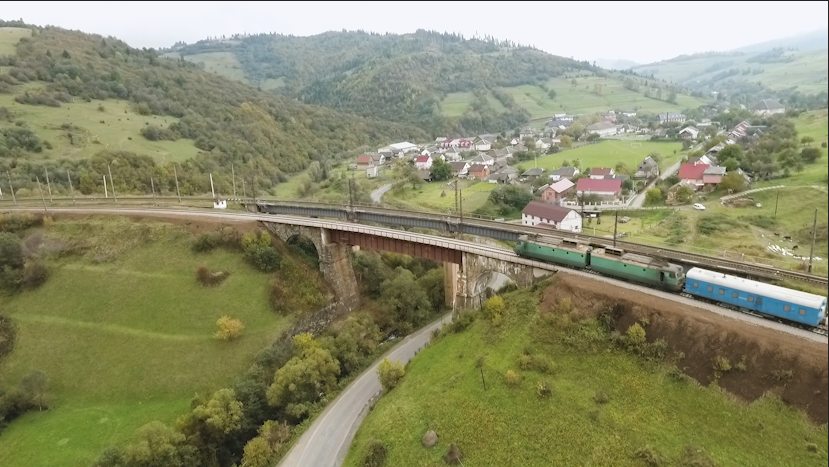 As Ukraine gets better physical connectivity, the next, "software", question is what to do with it.
In the early years of independence, Ukraine found few new answers to this question, staying close to its larger neighbour Russia. In the 1990s, it was too far away to be on the EU's radar. Brussels was more interested in the central and eastern European countries earmarked for quick accession in 2004 and 2007. 
This changed after those countries joined the bloc and the expanded EU's border shifted eastward. From 2004, the new eastern border had Poland, the Slovak Republic, Hungary and (after 2007) Romania on the inside. Ukraine was next door. 
Also in 2004 came Ukraine's Orange Revolution when, after an eventful campaign, a presidential candidate perceived as pro-European beat one viewed as pro-Moscow. With quicker reform now promised, the EU offered Kiev "all but institutions" –the chance to access the EU's internal market after significant reform – within the European Neighbourhood Policy and Eastern Partnership initiative. But the impetus went out of the Orange Revolution and Ukraine continued to waver over whether to face east or west.
Finally, in 2013-14, this question brought Ukrainians to blows. Then-president Viktor Yanukovych rejected a pending EU Association Agreement in favour of more ties with Russia. Young protesters who wanted Ukraine to be European occupied Kiev's (Independence) Square, or Maidan, nicknaming it the Euromaidan. Clashes left about 130 people dead – the "Heavenly Hundred" - and brought a new government. Yanukovych fled to Moscow. More violence followed. Russia claimed the Ukrainian-ruled Crimean peninsula and pro-Russian separatist statelets emerged in Russian-speaking eastern Ukraine.
The EU offered Ukraine economic help. The long-awaited EU Association Agreement and Deep and Comprehensive Free Trade Agreement (DCFTA) was signed. Ukraine, which had been one of the biggest consumers of Russian gas as well as the largest transit route for Russian gas to Europe, reorganised procurement so its gas came, for the first time, from west to east. It stopped buying gas from Russia and went instead to the European market, using, among other sources of finance, a rotating €300 million loan from the EBRD.
This support was timely. Today's Ukraine is solidly pro-Europe. This might surprise Samuel P Huntington, whose ground-breaking 1993 article, "Clash of Civilisations", drew a fault-line between western civilisation and Orthodox civilization right through Ukraine, suggesting the cultural differences between the once-Austrian, once-Polish west and the wheat-growing centre and further east might be a source of conflict. Today, EBRD political analyst Oleksandr Pavlyuk says the events of 2014 made Ukraine more united than before in nurturing European-minded aspirations. "After Euromaidan, Huntington's fault line moved further east, right to the peripheries beyond central government control. The rest of Ukraine today is clearly pro-European. If Huntington were living and writing now, he'd probably draw his dividing line with all Ukraine right inside the European space."
With sporadic fighting still going on in the east, President Petro Poroshenko has strong voter support for his aim for Ukraine to apply for EU membership by 2020. His European Integration minister Ivanna Klympush-Tsintsadze said in July 2017, "everyone will only benefit from Ukraine joining the EU."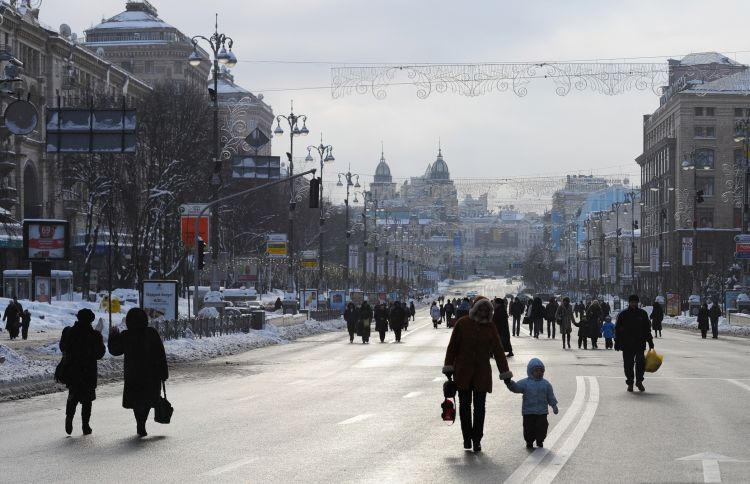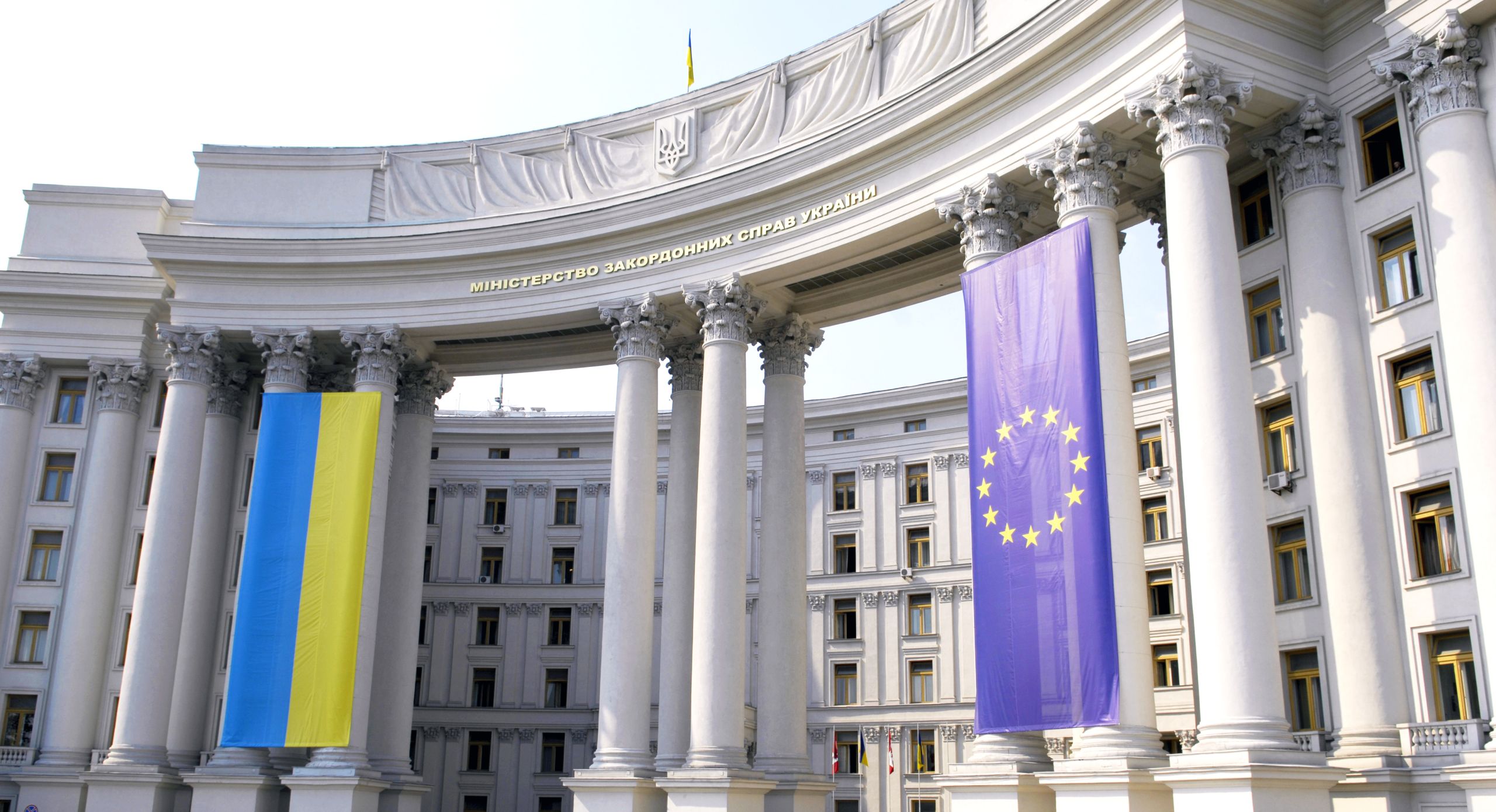 But this isn't yet enough of an argument for Brussels. The EU wants more proof that Ukraine will bring new ways of doing business down those new routes west. It wants Ukraine to upgrade its institutional software. 
Benefits offered by Brussels are conditional upon candidates passing reform milestones. A candidate country must maintain a market economy, stable democratic institutions, respect for human rights and protection for minorities. 
Ukraine has progressed since 2014 but more needs to be done to eradicate corruption and strengthen the rule of law to attract more investment, EBRD President Chakrabarti said in 2017. While praising changes which had "turned many doubters into believers that the country has the political will and resources to make changes happen," he added: "Ukraine just does not have the luxury of further delaying the reforms required." 
"Ukraine still needs to show the world that its judicial system is transparent and get rid of the corrupt practices of the past. These are deeply entrenched and were tremendously prosperous for their beneficiaries. This is recognised as the biggest challenge to Ukraine realising its full potential."
So is EU membership on the cards? "Not immediately," said Acuner. "But we already have a lot of institutions for sharing trade, democratic values and other processes. One doesn't need to be an immediate member if the values and institutions are very much alive with what Europe is about. This is how membership happens. Europe wants potential new members to go through that process upfront. Ukraine needs to be making its way along the route."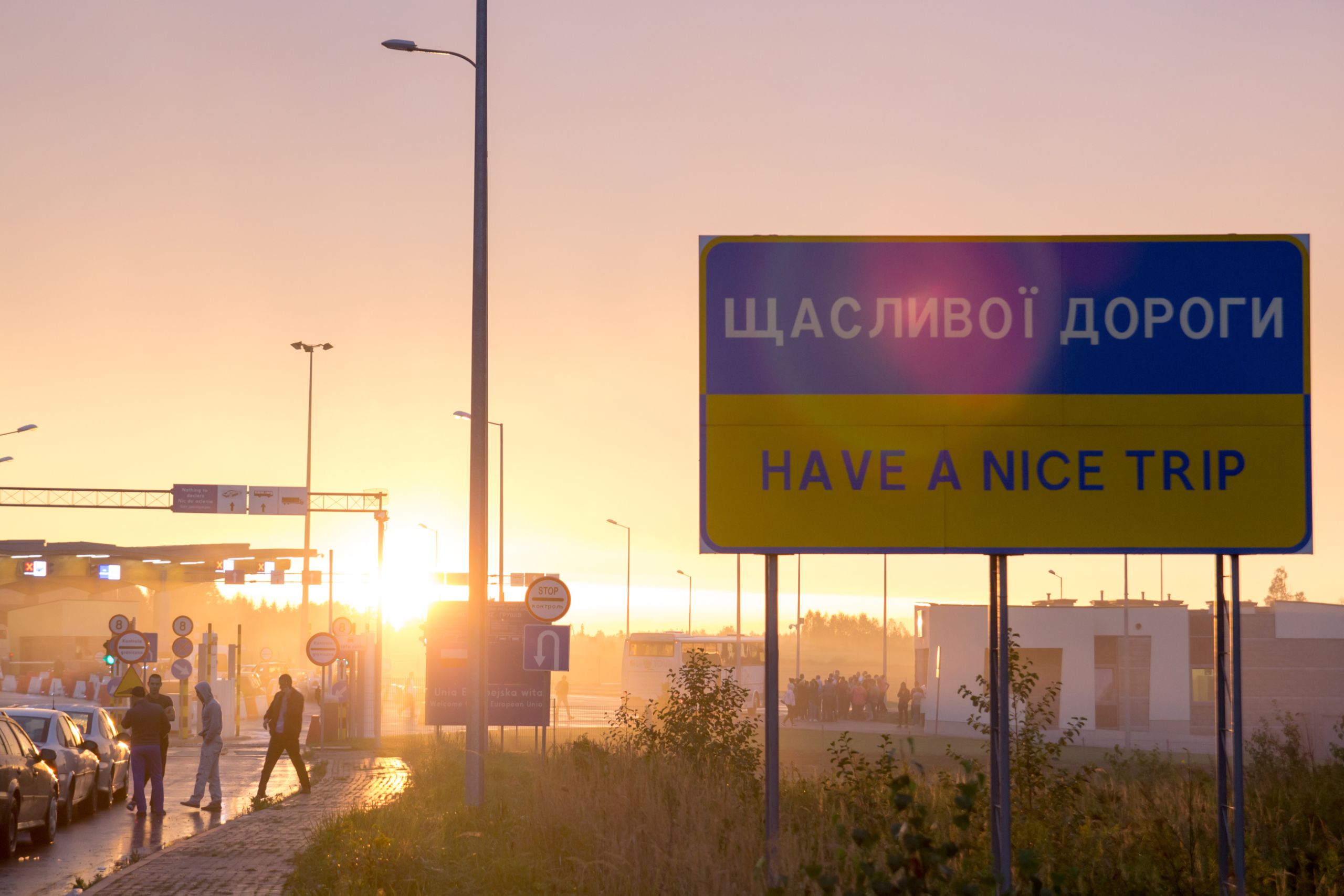 Still, in 2017, Ukrainians were finally given symbolic hope for a more European future: the right to travel visa-free ("bezviz") into the EU. 
"At last!" tweeted President Poroshenko. On 11 June, the day "bezviz" began, he was filmed walking through a stage-set "gateway into Europe" decorated with photos of the Arc de Triomphe and Colosseum, to be hugged by Slovak President Andrej Kiska on the European side.
Ukrainians are already beginning to use the new connections.
Freedom to travel is still limited by expense and practicalities. Not everyone has the required biometric passport and increased demand since "bezviz" has meant longer waits to get one. Many at the western border still use old methods, old passports and visas. But there are stories of increased congestion.
At Shegyhi, near the Polish border at Przemysl, lines of cars, buses and lorries inch forward to a wire-festooned frontier. Has there been more traffic since 11 June? "Oh yes," says Sveta, a stallholder selling sweets and cognac. Oksana, a 23-year-old student heading by bus through Poland to Latvia, adds, "it's really a lot easier now, even if the queues are longer." 
Visa-free Ukrainians can only spend three months in Europe once every six months and – to allay fears they will crowd the EU labour market – have no rights to work. 
Still, work abroad is on some minds at Beskyd. Train driver Bogdan Khalapirchuk said young people taking the three-year training to do his job "often talk about going abroad to work. The Slovak Republic and the Czech Republic take on a lot of people who can work there if they know the language. They earn more than us too, with better conditions. But I'm not going. I'm used to here. I have a family."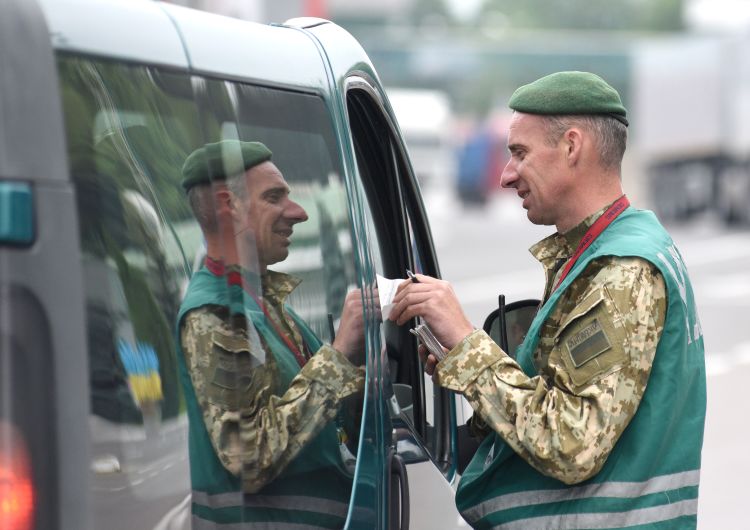 The Beskyd tunnel
A template for a better European future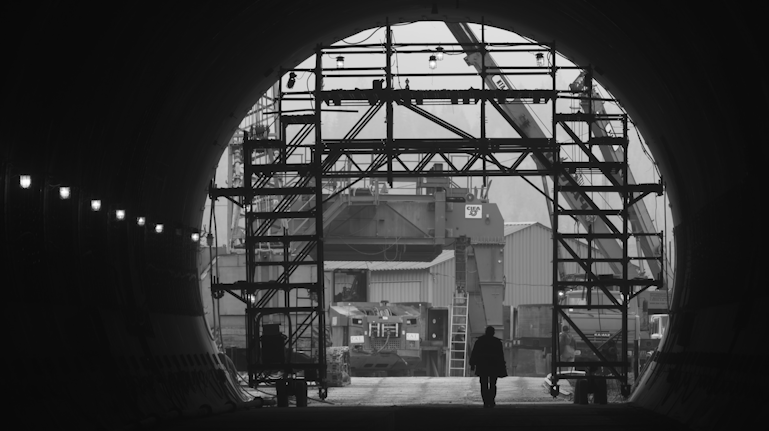 From Western Ukraine, the EU seems very close. The region, only Soviet since 1945, has kept its "old European" feel. Mozart's musician son worked in Lviv, which until 1918 was Lemberg, capital of the Austro-Hungarian province of Galicia. It was also the home of Leopold von Sacher-Masoch, the writer who gave us the term "masochism"; his notorious whipping-and-suffering romance Venus in Furs was set in a Carpathian resort. Psychoanalyst Sigmund Freud's family also came from Galicia. 
The old, narrow, egg-shaped Beskyd tunnel (which will be repurposed as a safety tunnel for the much bigger new tunnel alongside it) is a metaphor for all the 20th century problems which destroyed that old Europe.
The Austrian-built tunnel represented a technological achievement in the 19th century. But water leaks – turning into terrifying sheets of ice in the winter– made it impossible for trains to travel faster than 15 kilometres an hour in it and, according to station master Ivan Mogish, have left it "in a state of breakdown". These leaks were a result of rebuilding made necessary by geopolitics.
Built for European narrow-gauge trains, the tracks had to be widened after 1945 to fit with the Soviet broad-gauge system. The western portal had to be rebuilt after the retreating Nazi army blew it up (a defiant Soviet plaque still warns incomers that "those who come to us with swords will die by the sword"). More rebuilding came in the 1950s when the line was electrified. 
"A decision was taken to change the egg-shaped structure, dig half a metre down,then run rails and wires above and below a new concrete foundation," said UZ's Vladimir Kharlan. "This was quite wrong. The tunnel began to subside, crack and leak."
"In winter the walls get completely iced up," said engineer Alexander Savostyanov. "Workers go in every day and scrape the ice off the walls."
The new tunnel is a more positive template for a 21st-century relationship between Europe and Ukraine. This product of region-wide cooperation was built with "new Austrian technology", a technique that bonds a concrete layer to the excavated tunnel shape, immediately strengthening its structure. It uses state-of-the-art hydrotechnology to channel problematic water away. And, crucially, it's wide enough for two lines, and two-way travel.
"If before we could send through 40 trains a day, now that can be 100," said Kharlan. As one local passenger, retired engineer Yevgeniya Khomin, put it, going through the tunnel to visit her parents: "The new tunnel brings hope to the region."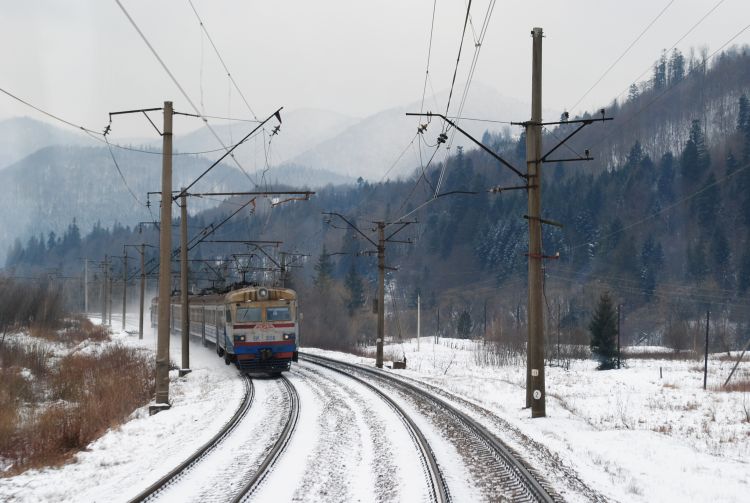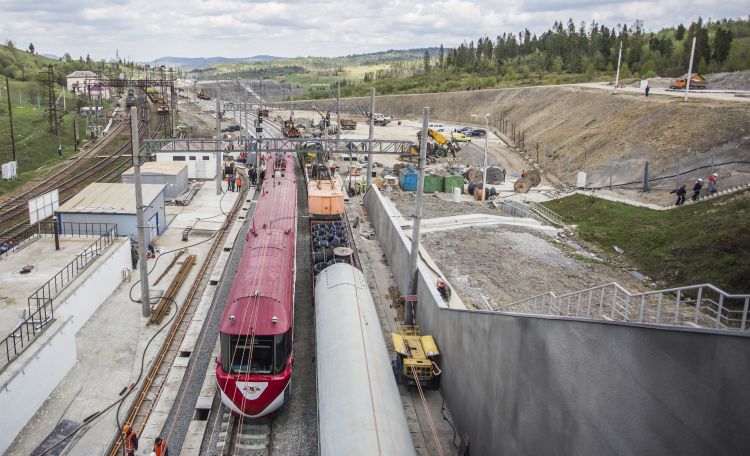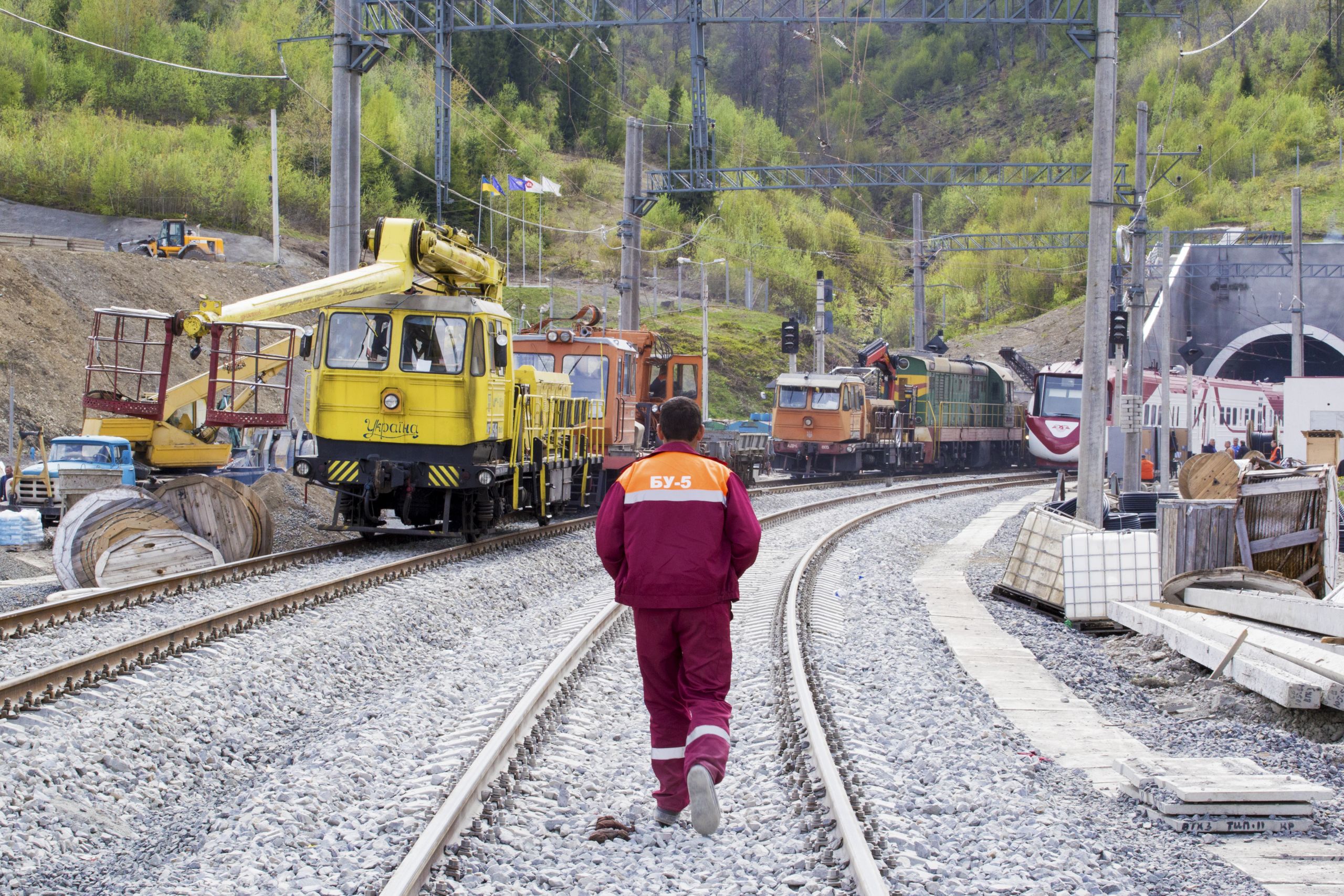 The construction of the Beskyd tunnel was supported by the European Union, Austria as well as the European Investment Bank.
Find out more about the EBRD's work in Ukraine
Credits
Words: Vanora Bennett
Filming: Christophe Obert
Graphics: Chris West
Production: Rebecca Corbett and Dermot Doorly
Photo Credits:
Nickita Pechenik
http://mstyslav-chernov.com/ - Khreshchatyk street
Amakuha - Burning of the Euromaidan headquarters
The Presidential Administration of Ukraine - Ukrainian President Petro Poroshenko greets Slovak President Andrej Kisha in Europe
The EBRD is a multilateral bank that promotes the development of the private sector and entrepreneurial initiative in 38 economies across three continents. The Bank is owned by 66 countries as well as the EU and the EIB. EBRD investments are aimed at making the economies in its regions competitive, inclusive,well-governed, green, and integrated.
Follow us on: Twitter, Facebook, LinkedIn, Instagram and Youtube.